British rocker Robert Anthony Plant, was born on August 20, 1948 in West Bromwich, Staffordshire (now West Midlands), England to a civil engineer and his wife Robert C. Plant and Annie nee Cain Plant, but grew up in Kidderminster, in Worcestershire. Plant attended King Edward VI Grammar School in Stourbridge until his mid-teens when he dropped out. At this time Plant was developing a strong interest in American blues. At some point, Plant left training as a chartered accountant after only 2 weeks, in an attempt to gain more CGE*passes and to become a part of the English Midland Blues scene. While pursuing his musical career, Robert Plant worked an assorted kinds of jobs including working at Woolworth's for a short time and laying down tarmac on Birmingham roads in 1967. While having these day jobs, Plant cut three obscure singles for CBS Records and sang with a variety of bands including, The Crawling King Snakes, in 1966, in which John Bonham became the bands drummer and the original Band of Joy, John Bonham on drums for that band as well, merging blues with newer psychedelic trends. Though he met no commercial success early on in his career, word spread about the "young man with the powerful voice".
After the implosion of the rock band, the Yardbirds on July 7, 1968 Jimmy Page, who was the lead guitarist for the band looking for a lead singer was looking for a lead singer for a new band he was putting together.Jimmy Page was told about Robert Plant by Terry Reid, an English rock vocalist and guitarist, who was Pages first choice for lead vocalist. At the time Plant was performing in a band called Hobstweedle when Page, along with manager Peter Grant, asked Plant to join the band Page was forming. Plant in turn suggested John Bonham for the drums even though others, including Creme's drummer Ginger Baker or so was the rumor at the time. However, upon seeing Bonham perform at a club in Hampstead, also in July of '68 all other choices went out the window, but it took 8 telegrams before a reluctant John Bonham agreed to join the band. John Paul Jones, was a session musician who crossed paths with Jimmy Page, knew Page was putting a new band together , so at the urging of his wife Jones asked Page about the vacant bassist position and Page asked John Paul Jones to join the band. So here is a hopefully brief history on the band that would become... The New Yardbirds. This name was taken because the Yardbids had a scheduled Scandinavian tour booked when they broke up so to keep up the bands end of the bargain they toured as the New Yardbirds. Keith Moon and John Entwistle, drummer and bassist for the rock group "The Who", are said ,by some accounts anyway, tohave been the ones to come up with the name Led Zeppelin, they are to have said that a supergroup containg themselves, Jeff Beck and Jimmy Page wold go down like a "lead balloon". The band's manager, Peter Grant suggested that the "a" be dropped so not to have Americans pronounce it "leed". "Balloon" was droped for "zeppelin"and Page thought that this name conjured up the perfect combination of light and heavy, combustibility and grace. Thus we now have the origins of Led Zeppelin. They officially declared the name Led Zeppelin October 14, 1968.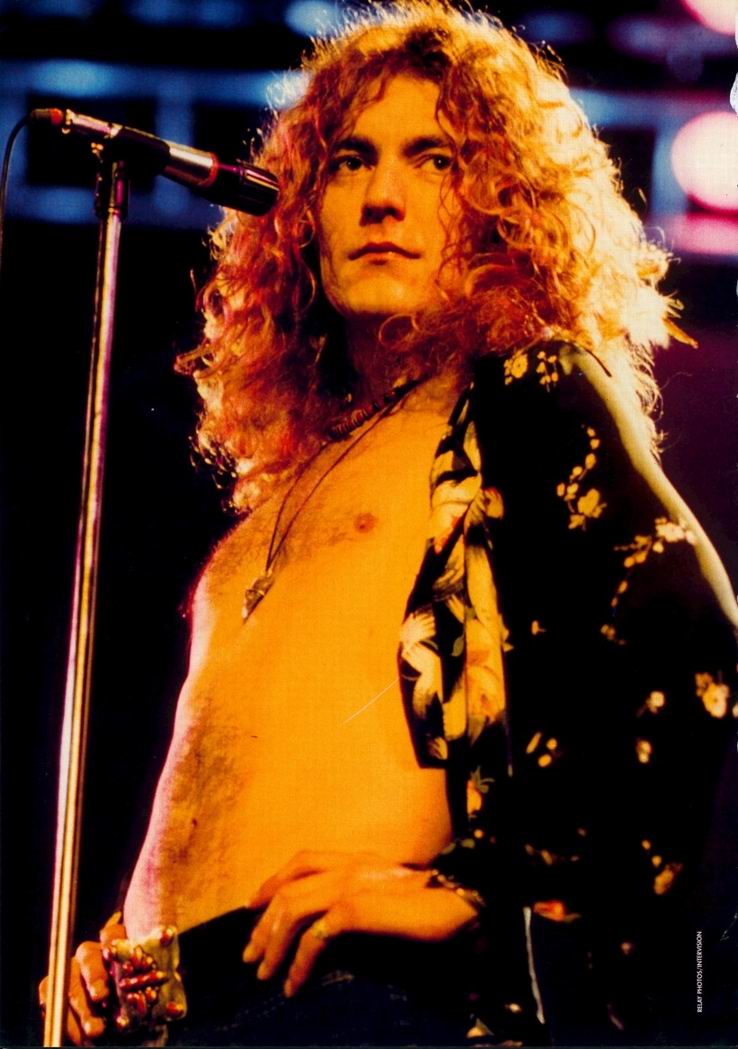 Zeppelin's first concert was at the University of surrey on October 25,1968 and was followed by a U.S. tour debuted on December 26, 1968. Their self-titled album "Led Zeppelin" debuted in America on January 12, 1969 while the band was on tour. It did not appear in Britain until March 31,1969.
But before Robert Plant embarks on Zeppelin's American tour he marries his girlfriend, Maureen Wilson on November 9,1968 in London. On November 7,1969 "Led Zeppelin II" is released. It is on "Led Zeppelin II" that Plant began to write song lyrics with Led Zeppelin for the first time. This album contains "Whole Lotta Love" which would reach #4 on the American charts and the bands only Top 10 hit in the U.S.
While on a family vacation in Rhodes, Greece Plant and his wife, Maureen (now divorced), were involved in a serious car accident on August 4, 1975. This changed touring plans Led Zeppelin may have had at the time.Meaning that they had to cancel the remaining tour dates for the year and that the production of "Presence", Zeppelins seventh album had to be put on hold for a few months while Plant recuperated. Plant recovered fully and was able to take his first unaided steps in the begging of 1976. The movie and the soundtrack for "The Song Remains the Same"were released later in 1976 and it filled the void that was there because Led Zeppelin was not touring.
In 1977 while on tour Robert Plant's young son, Karac, died as suddenly and sadly of a stomach infection on July 26,1977. Forcing Zeppelin to cancel what would be the bands last American tour. With this tragedy Plant retreated to his home in the Midlands and made him question his future for months afterwards.Karac's death would be the later inspiration for the song "All Of My Love", featured on what would be Led Zeppelin's final album, 1979's "In Through the Out Door". In 1982 Robert and maureen divorced, but they still remain friends to this day.
The end of Led Zeppelin came on September 25,1980 with the death of John Bonham, caused by asphyxiation due to inhaling vomit. But what could be called the official end of Led zeppelin came on December 4,1980, when it was confirmed that the band would not continue without Bonham.
Arguably one of Robert Plant's greatest achievements with Led Zeppelin was his contribution to the epic rock ballad "Stairway To Heaven" from the album "Led Zeppelin IV". "Stairway to Heaven" drew heavily from traditional Celtic music, blues, folk and hard rock. Most of the lyrics were written spontaneously by Plant in 1970, at a former poorhouse, Headley Grange. Though never released as a single the song has topped polls around the world as the greatest song of all time.
The 1980's marked a new chapter in Robert Plant's life. Starting with a few months after the break-up of Led Zeppelin Plant began playing a series of live gigs at a Stourbridge wine bar called "McCoys". He played old R&B songs with a band known as The Honeydrippers which included Jeff Beck and Jimmy Page and the band made an EP * in the United States in 1981. Also, during August and September of 1981 Plant began working on his first solo album at Rockfield Studios. His first album, 'Pictures At Eleven' was released on June 28,1982 and debuts at #2 on the U.K. charts. The album includes "Fat Lip", "Moonlight in Samosa" and what would be his first music video, "Burning Down One Side".
In 1983 Plant released his second album,"The Principle of Moments". The song "Big Log" reached #11 on the U.K. charts and became a top 20 hit in America. Other songs on the album included "In the Mood", "Horizontal Departure" and "Open Arms".
In 1984 The Honeydrippers got back together and released the groups only EP "The Honeydrippers:Volume One". With the remake of Phil Phillips song "Sea of Love" going to #3 on the American charts and hitting the top 30 with "Rockin' at Midnight". In 1985, "Shaken and Stirred" is released, containing the songs " Little By Little", "Sixes and Sevens" and "Pink and Black. Robert Plant does a successful tour supporting both "Shaken and Stirred" and The Honeydrippers albums. Then Live Aid happens in the middle of the tour and Plant joins John Paul Jones and Jimmy Page on July 13, 1985 to sing a few Led Zeppelin classics. But because of poor sale numbers for "Shaken and Stirred", Plant disbands his recording and touring bands.
Plant eventually gets a new band together and starts work on a new album and has Jimmy Page play on two tracks. This would become the album "Now and Zen" which has the song, that introduced me to Robert Plant, eventually Jimmy Page and Led Zeppelin as a whole, "Tall Cool One",. The song reached only # 87 on the U.K single chart, #25 on Billboard Hot 100 and #1 on Billboard Mainstream Rock chart. "Tall Cool One" is one of the songs that featured Page on guitar. Two other songs on the album that did good are "Ship of Fools" and "Heaven Knows". "Now and Zen" revived Plant's solo career as he performed for over 1 million people in America.
Through the 1980's and '90's Plant had three solo albums, "Now and Zen", "Manic Nirvana" (1990) and "Fate of Nations" (1993). "Fate of Nations" has the song "I Believe", another song that was written for and dedicated to his son, Karac.
In 1994 Robert Plant and Jimmy Page teamed up again for the next to last performance of MTV's Unplugged series. The 90 minute special, called "Unledded" premiered to the highest ratings in MTV history. In October of 1994, the session was released as the Cd "No Quarter: Jimmy Page and Robert Plant Unledded". This was followed by a highly successful tour in 1995. In 2004 the DVD "No Quarter Unledded" was released. The follow-up album "Last Train to Clarksdale" was released April 21,1998. It debuted at #8 on Billboard's Billboard 200 album chart and going to #3 on the U.K. Album Chart. In 1999 the single from this album "Most High" won the Grammy for Best Hard Rock Performance. Even so the album did not sell as well as previous Plant albums, which may have led Robert Plant to return to his solo career.
In 1997, while Page was working with The Black Crowes, Plant was looking for a new outlet for his creativity. Joining with 2 performance art faculty members of Kidderminster College and 2 students, Plant formed a new group, Priory of Brion. The band was together until the end of 2000.
In 2001 Plant came back with his acclaimed collection of mainly folk and blues remake solo album, "Dreamland" which was backed by his newly formed band , at the time, Strange Sensation. Two years later Plant debuted "Sixty Six to Timbuktu", a two disc compilation dedicated exclusively to works that plant had done during his solo career, including "Tall Cool One" and "Upside Down". Then in 2005 it was followed by his second album with Strange Sensation "Mighty Rearranger", which contains new and original songs.Plant earned some of the best reviews of his solo career for both albums and earned 4 Grammy nominations, two in 2003 and two in 2006. In November of 2006 an expansive box set of his solo work, "Nine Lives", was released. It expanded all of Plant's albums with various b-sides, demos and live cuts. "Nine Lives" was also accompanied by a DVD.
2007 saw Robert Plant collaborate with bluegrass singer Allison Krauss for a duet album "Raising Sand" which was released on October 23, 2007. The album was produced by T-Bone Burnett, who I think is one of the greatest record producers to ever walk the face of the earth. Anyway, in April of 2008 Robert Plant and Allison Krauss started an extended American and European tours. The album was nominated for a Mercury Prize in July of 2008. On February 8,2009 they won Grammy Awards for Album of the Year, Pop Collaboration With Vocals, Country Collaboration With Vocals, Contemporary Folk/Americana Album and Record of the Year. In July of 2009, Robert Plant was bestowed with the honor of Commander of the Order of the British Empire for his services to the field of music.
A year late, in July of 2010, Plant went on a twelve date summer tour with a new group called Band of Joy, reprising the name of his very first band in the 1960's. After a show on September 12,2010 at the Bowery ballroom in New York City, an eleven date autumn tour for Europe was announced. The next day, September 13,2010 the studio album "Band of Joy" was released. The European tour started in October of 2010 and went through November 2010. A North American tour was announced on November 16,2010, with the first show being on January 18,2011 in Asheville, North Carolina and the last one being in Atlantic City, New Jersey on June 25,2011. The Band of Joy did a summer tour of Europe starting on July 19, 2011 in Rome, Italy and with the final concert being at Eastnor Castle Deer Park in Herefordshire, in the West Midlands region of England.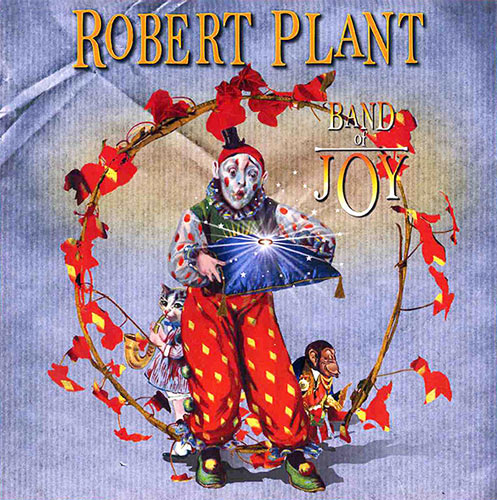 * General Certificate of Education- An academic qualification that examination boards (a bit like the SAT in America) in the United Kingdom and a few Commonwealth countries confer to students.