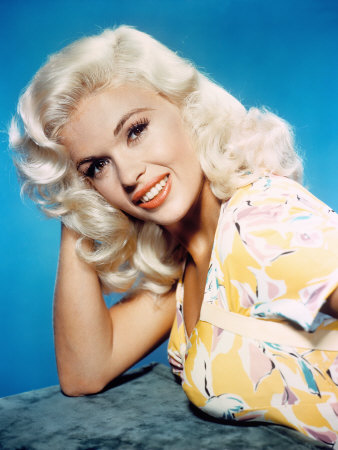 Hard to believe that June 29 will mar the 44th anniversary of Jayne Mansfield's death. While traveling to New Orleans, Louisiana from Biloxi, Mississippi on U.S. highway 90, the car she was riding in with three of her children by Mr. Universe Micky Hargitaty, Miklos, Zoltan and Mariska, Sam Brody, her married divorce lawyer and lover and their driver, Ronnie Harrison, when the car ran into the rear of a tractor trailer because it had slowed down because of a truck spraying mosquito fogger. The Buick Jayne was end not only hit the back of the tractor trailer but went under it as well. This, plus the blonde wig she was wearing at the time, has led to erroneous conclusion that Jayne Mansfield was decapitated, she wasn't. It was the fact that her skull was crushed that is the cause of death. Jayne Mansfield is buried in Pen Argyl, Pennsylvania where her parents were from.
That was Jayne's end now for her beginning. Vera Jayne Palmer was born April 19, 1933in Bryn Mawr, Pennsylvania but spent her early childhood in Phillipsburg, Pennsylvania. At the age of 3 her father died of a heart attack after being given a clean bill of health by his doctor that very morning.Luckily, her mother was able to get a job as a school teacher in order to support the family. Not long afterwards Jayne's mother met and married Harry "Tex" Peers and the family decided to move to Dallas in 1939. At a Christmas Eve party in 1949 Jayne met Paul Mansfield; they married on January 28, 1950. In November of 1950, after a difficult labor, Jayne gave birth to a baby girl, her first of 5 children. While doing the family thing & having only gone to high school until her junior year, she also attended college studying dramatics at the University of Dallas and the University of Texas at Austin. Her husband thought all of this would dampen Jayne's desire for Hollywood but he was wrong. So after Paul got done doing his stint in the Army (courtesy of the Korean War) he kept his promise to Jayne and the family went to California. But as it seems to be with situations like this the marriage ended in divorce and Paul went back to Dallas.
Jayne took work in a movie theater but soon began working as a model which led to her film and stage career. Now the studio heads may have thought that just because she had measurements of 40-21-35 they were getting a dolt or the whole "Well she's just a woman, what does she know?" deal but they were so wrong. She spoke 5 languages and was classically trained in piano and violin. Her I.Q. was supposed to have been 163. All she did was dye her brunette hair blonde and play dumb.
I've heard that it takes a lot of smarts to play dumb. So if anyone could do it, Jayne could.
She was signed by Warner Brothers studio for 6 months because they wanted to have their own variation of Marilyn Monroe. She had a bit part in
"Pete Kelly's Blue"
in 1955. Soon after the release of the movie Jayne was loaned out to RKO for a two second role in "Underwater" which starred Jane Russell. In 1955 she also enjoyed a successful Broadway run in the play "Will Success Spoil Rock Hunter?" On May 3, 1956 Jayne returned to Hollywood and was signed to another 6 month contract this time with 20th Century Fox. The studio promoted her as "Marilyn Monroe Kingsized" and used as a threat against Monroe to get her to work. Jayne's 1st staring role was in the movie "The Girl Can't Help It" which also had performances by Fats Domino, Gene Vincent and Little Richard. In 1956 she met Mr. Universe Mickey Hargitay while at a Mae West show. He was one of the musclemen. West was jealous of the two dating and publicly DEMANDED that Mickey stop seeing Jayne, to which he publicly answered that Jayne and he were in love and were planning a future together.In 1957, she was in the starring role of the movie version of her hit Broadway play,
"Will Success Spoil Rock Hunter"
. Both Jayne and the movie were a hit. In January of 1958 Jayne Mansfield and Mickey Hargitay married. The couple loved children and were ecstatic each time Jayne became pregnant. The couple had three children together, one being
Mariska Hargitay
of
Law & Order: SVU
fame. None the less they divorced in August 1964 but remained good friends.. In the later part of 1964 she married Matt Cimber, whom she had met when he directed her in a stage production of "Bus Stop" , in Yonkers, New York. They had one child together. While working on what would be her last film, "Single Room Furnished" production had to be stopped in the middle because Jayne's marriage to Cimber was falling apart because of her alcoholism. open infidelities and her proclamation that one time lover,Nelson Sardeli, was the only one to have made her happy. They seperated in July of 1965 and divorced in July of 1966. After her death Mickey Hargitay and his wife was given custody and raised the children he had with Jayne and Matt Cimber, naturally got custody of their son.
Jayne Mansfield appeared on television as well as having her own stage shows. It was while traveling to another gig in New Orleans that she died. One of her movies "Promises, Promises" was the first talking picture to feature a mainstream star nude. Jayne was also a Playboy Playmate of the Month in February of 1955.