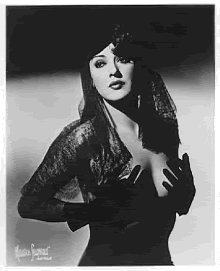 Queen of the striptease, who always emphasized the tease part, Gypsy Rose Lee was born
Rose Louise Hovick in Seattle, Washington on January 8, 1911.She got her start in burlesque in Kansas City on October 6, 1926 at the tender age of 15 in not much more than a grass skirt and did not take much off. Gypsy also brought class and wit to her acts.She moved to New York and became one of the biggest stars of Minsky's Burlesque. She performed there for 4 years before deciding to go to Hollywood to give acting a try, which was generally panned. Gypsy went back to New York City where she invested and starred in many of Michael Todd's productions. As well as having an affair with him. She married 3 times. While married to her 2nd husband Gypsy

embarked on an affair with director Otto Preminger, with whom she had a child by in December of 1944. Twelve years later she gave up stripping at the age of 42.
Stripping was not the only thing Gypsy did. She wrote " The G-String Murders" in 1941, which was made into the film, starring Barbara Stanwyck, "Lady Burlesque" in 1943. Gypsy's second murder mystery was "Mother Finds a Body" published in 1942. And of course, a relative send up of her upbringing, her memoir "Gypsy"

in 1957.

In later years she had a successful television show in San Fransisco for housewives.
In 1969
Gypsy was diagnosed with lung cancer. This prompted a reconciliation with her sister actress June Havoc, whom she had been estranged from for many years, courtesy of their mother. Gypsy

died of lung cancer on April 26, 1970. She was also an animal lover who is credited with establishing one of the first kennels dedicated to breeding Chinese Crested dogs.